Canoeing and kayaking near Anna's gardens / Allier Gorges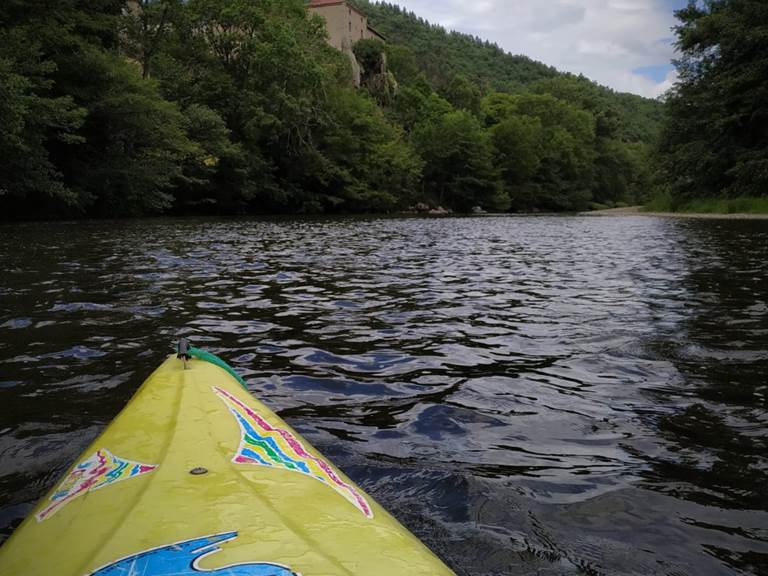 A few strides (pedestrian!) From the "Anna gardens" is the Allier river which we used to say is one of the last wild rivers in Europe.
In addition to the simple happiness of being able to stroll on its banks, you can swim in the heart of summer and of course catch your canoe to explore its wild beauty.
Many themes allow its discovery. Here you can combine love of nature, wild life but also heritage, if you choose to paddle on this course which crosses from South to North Auvergne, before going to find the Loire.
To meet all your expectations, the "Anna gardens" are associated with the "Brioude Canoe-Kayak Club" for tailor-made.
• In solo mode, for the day, replay the great skippers of yesteryear, enjoy the abundance of flora and fauna and who knows, meet Sieur Salmon!
All you have to do is choose your starting point upstream from the ""Anna gardens"", to arrive quietly or ""sportingly"" in Brioude!
We can set up your outing with "Club de Canoë-kayak Brioude". You will just have to let yourself slip on the chosen day (subject to availability)…
Prices "
Brioude Canoe-Kayak Club ""for the day for 2 people: 42 euros
• In roaming over 2 days, for unlimited access to the diversity of terrestrial and aquatic biotopes, meticulous observation of the architectural heritage of Auvergnat and all this barely a stone's throw from the volcanoes of Auvergne.
You will be dropped off on site by the ""Canouê-kayak Brioude Club"". Beginning of the adventure, in the meanders of Lavoûte-Chilhac, a priory that has its feet in the water, then slide on this free river for a route in the shade of the Haute-Loire. Goal :
Villeneuve-d'Allier and Saint-Ilpize the magical, here we do not think of the Druids but of the Dolphins of Auvergne, free and whimsical characters like the Allier who brings you. (Oops I get lost, these castles inevitably immerse me in my chivalrous readings of a young girl to the sound of "carmina burana" which I strongly advise you to have within earshot for docking!). After this emotional sequence arrived at Tapon, where you will find us for a rest and, I dare not say it, a well-deserved aperitif at the "Anna gardens"
After a good night and a hearty breakfast you will just have to pick up the thread s
water to reach Vieille Brioude first, where these gorges of the Allier end with its vineyard houses shaped by its viticultural past, and finally Brioude, whose etymology would evoke a passage on ... the rivers. The circle is complete.
It is in front of the most luminous of the Romanesque churches of Auvergne, the Saint-Julien basilica, that you will find the "Club de Canoê-kayak Brioude", stars in your eyes.
Depending on your level, your desires, the distances can be reviewed and adapted.
"

Brioude

r

Canoe-kayak Club

" rates for 2 days of rental for 2 people: 80 euros
• For half a day, for the day, directly with the ""Club de Canoê-kayak Brioude"", various courses adapted to all levels of practice are offered. We let you dream about names
from Prades, Langeac, Chilhac…
Phone. : 04 71 50 43 82
canoe-brioude.e-monsite.com